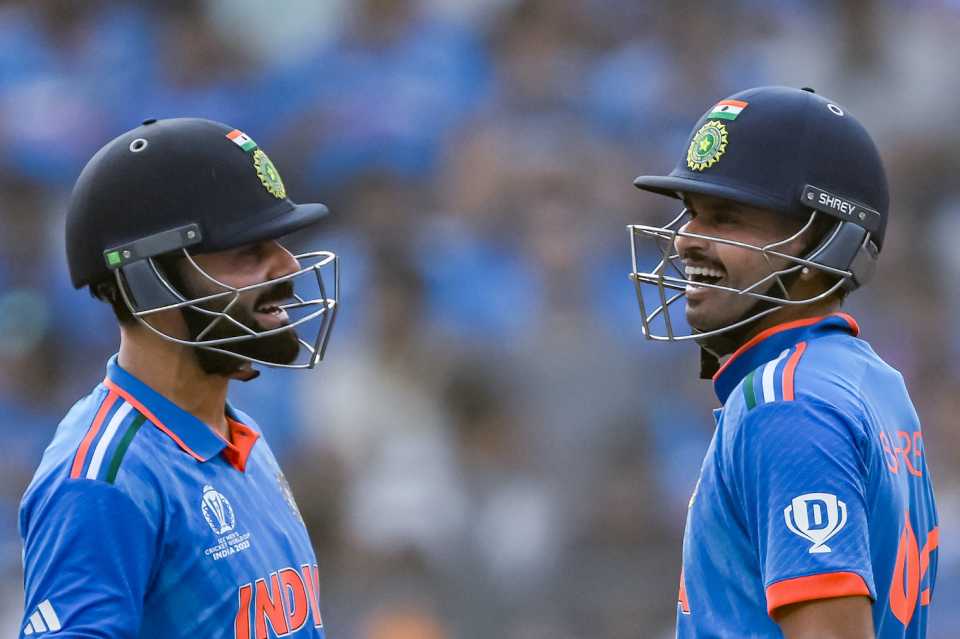 This remarkable feat catapulted Kohli beyond Sachin Tendulkar's tally, symbolizing a passing of the baton between two cricketing legends. Kohli's emotional celebration underscored the significance of achieving this milestone on a stage as grand as the World Cup.
Amidst strategic consolidation and acceleration, India amassed 66 and 64 runs in the second and third sets of 10 overs, respectively. However, Shreyas Iyer and Virat Kohli orchestrated a spectacular surge with a partnership that contributed 73 runs in the next 10 overs.
From 287/1 in 40 overs, India set the stage for a formidable finish. Kohli's emotional century celebration and Iyer's lightning-quick 67-ball century further solidified India's imposing total.
Shami's Record-Breaking Performance: A Bowler's Triumph
Mohammed Shami's sensational bowling performance rewrote the record books and became the cornerstone of India's victory.
His 7 for 57 not only secured him the best-ever ODI figures for an Indian bowler, surpassing Stuart Binny's 6 for 4, but also made him the first bowler to achieve three five-wicket hauls in a single edition of the 50-over World Cup. Shami's prowess with the ball set an indomitable tone for India's defense.
Despite a valiant effort by Daryl Mitchell, who played a stellar innings of 134 runs, the New Zealand chase eventually unraveled. Mohammed Shami's return to the attack proved decisive as he claimed Mitchell's wicket and completed his fifer.
With this, Shami secured the best-ever bowling figures in a World Cup knockout fixture, surpassing Ashish Nehra's record.
The see-sawing contest at the Wankhede Stadium showcased not only individual brilliance but also the collective strength of the Indian cricket team.
From Kohli's record-breaking century to Shami's historic bowling performance, every facet of the game contributed to India's resounding victory by 70 runs. With this triumph, India secured a coveted spot in the World Cup final, leaving fans eagerly anticipating a clash of titans for cricket's ultimate glory.
">