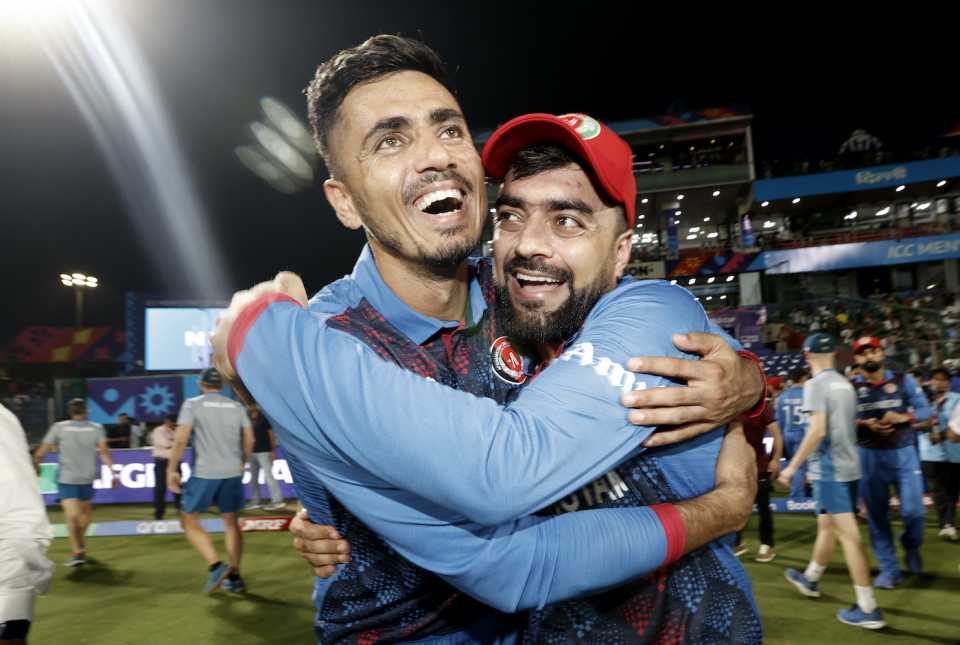 A Message of Resilience and Determination
Rashid , a spirited spinner, went on to share an inspiring message that resonates with the essence of determination and resilience.
He emphasized that, regardless of the tournament's outcome, the team's commitment to giving their best until the very end was paramount.
Small goals were set, and the team strived for happiness in knowing they gave their all on the field.
"I made it clear to everyone in the dressing room. Whatever happens in the tournament, we just have to fight till the end. We made small goals for ourselves. You just have to be happy that you gave your 100% while going back to the hotel"
"More than three wickets, scoring those runs, I was really happy with that. Also, the cover drive against Mark Wood. I'm happy. After a long time, I got three wickets," Rashid Khan shared with a smile.
A United Effort
Rashid Khan also highlighted the significance of teamwork, acknowledging the invaluable contributions of fellow cricketers like Mujeeb. Their partnership has been pivotal.
Sharing insights, strategies, and supporting one another has made a substantial difference. The presence of seasoned players like Nabi, who brings a wealth of experience to the team, is considered a blessing.
"Mujeeb has been contributing consistently for us. We have been bowling together in the nets. We have been batting together in the nets. We discuss what's the best ball to bowl on the wicket. Sharing information helps us. I'm lucky to have him around,"
"Also, we have Nabi and great to have him who has plenty of experience. It's a special occasion for Nabi. 150th game for him. Also, 100th game for Rahmat Shah. We said that we would celebrate after the win. This will be a memorable win for him" Rashid added.
In this momentous win, the people of Afghanistan find solace, and the world finds inspiration in the power of cricket to uplift spirits and bring smiles in times of adversity.
">