Media Mayhem
Unsurprisingly, the incident became a hot topic in both English and Australian media circles, leading to an intense clash of headlines. The newspapers on both sides pulled no punches, displaying not only one-upmanship but also a remarkable display of wit and savagery.
Standing out among the crowd was the headline from The West Australian, featuring England captain Ben Stokes with a pacifier, boldly labeling the hosts as "Crybabies."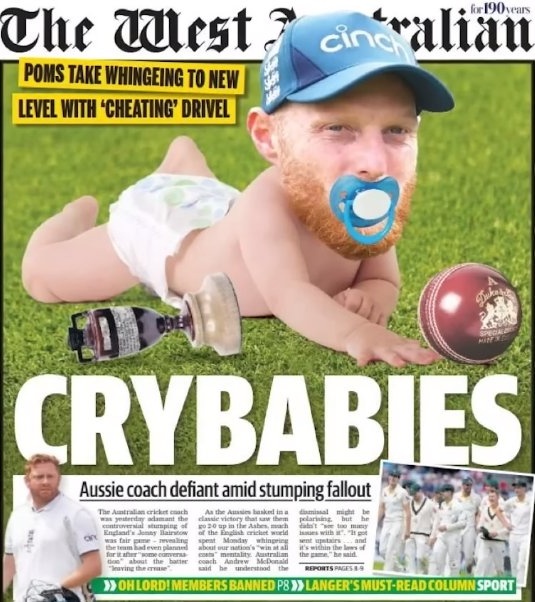 Stokes Strikes Back
The newspaper's front page quickly went viral, catching the attention of Ben Stokes himself on Twitter. The fiery England captain wasted no time in delivering a scathing response, challenging the accuracy of the image. "That's definitely not me, since when did I bowl with the new ball?"
Stokes tweeted, cleverly pointing out that he doesn't bowl with the new ball and taking a dig at the publication.
With former and current cricketers from both England and Australia joining the fray, tensions are mounting ahead of the third Test at Headingley. The sparks ignited by the controversial dismissal and subsequent media frenzy are set to fuel an already intense battle between the two cricketing powerhouses.
Australia currently holds a commanding 2-0 lead, with England relying heavily on the heroic efforts of their captain, Ben Stokes, who single-handedly fought back with a remarkable knock of 155 runs.
Get ready for an explosive showdown as the Ashes continue, where fierce competition and unyielding determination are set to take center stage. The cricketing world awaits with bated breath to witness the electrifying clashes that lie ahead.
">