However, the standout moment of his interview was when he selflessly dedicated his Player of the Match award to those affected by the recent earthquake in Afghanistan.
"I want to dedicate this Player of the Match award to all the victims of the earthquake back home," said Mujeeb.
Mujeeb's Bowling Prowess in Challenging Conditions
Mujeeb's contribution to the match extended beyond his heartfelt gesture. He put on an outstanding display, scoring 28 runs while also claiming three crucial wickets against the formidable English side.
This exceptional performance played a significant role in Afghanistan's historic win, only their second in the history of ODI World Cups.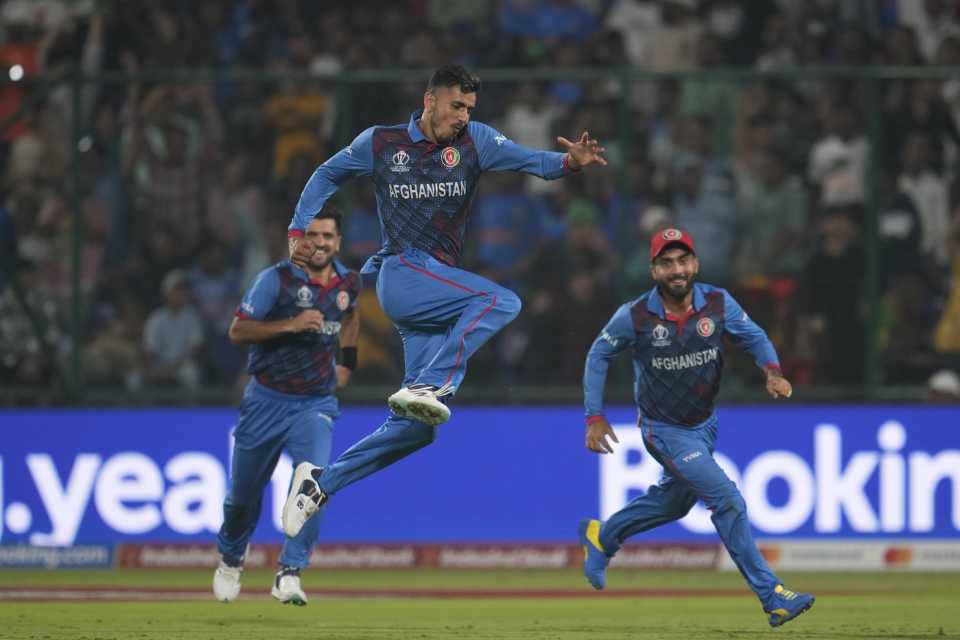 Addressing the challenging conditions on the pitch, Mujeeb spoke about the difficulties spinners face in the powerplay with only two fielders allowed on the boundary. Despite the odds, he emphasized his dedication to consistency in his line and length.
"As a spinner, it is always hard to bowl in the powerplay with only two fielders out on the boundary. But I have been working hard and trying to be consistent with my lines and lengths. I try to attack the stumps," Mujeeb said.
The Afghanistan team knew that dew would become a factor in the latter half of the game, and they were prepared to adapt to the changing conditions.
"We knew the dew was going to come and play a part in the latter half. The wicket was good and the ball was holding a bit on the surface. The mindset was there to hit the right areas even if there was dew," Mujeeb added.
Mujeeb's Batting Prowess Shines Through
Mujeeb's impact wasn't limited to his bowling skills; his prowess with the bat added valuable runs to Afghanistan's total. He credited the team management for instilling confidence in him during practice sessions.
This confidence translated into a fiery batting performance during the match, as he smashed 28 runs off just 16 deliveries, featuring three boundaries and a powerful six against England.
"It's all about the management. They give me confidence in the nets. I just try to hit the ball while batting in the nets and I want to contribute while batting lower down the order. Those 20-25 runs will prove to be crucial," said Mujeeb.
Following their impressive win over England, Afghanistan has leaped to the sixth position in the 2023 World Cup standings, surpassing Sri Lanka on the basis of a superior net run-rate.
This victory not only showcased Afghanistan's cricketing prowess but also highlighted their resilience and spirit in the face of adversity.
">