Over the past four games, Jadeja seized the opportunity to exhibit his all-round prowess. With the bat, he played crucial innings, including an unbeaten 39 against New Zealand, 35 against Sri Lanka, and an undefeated 29 against South Africa.
These vital contributions came at the No.7 position and played a significant role in India's success.
Jadeja's value extends to his prowess with the ball. In the same four matches, he added seven more wickets to his tally, bringing his total to an impressive 14 wickets in eight games.
His bowling excellence was highlighted during India's recent victory at the iconic Eden Gardens. He demonstrated the full extent of his abilities. He played a blistering innings, scoring an unbeaten 29 off just 15 balls, partnering with Virat Kohli to accelerate India's total to 326 for 5.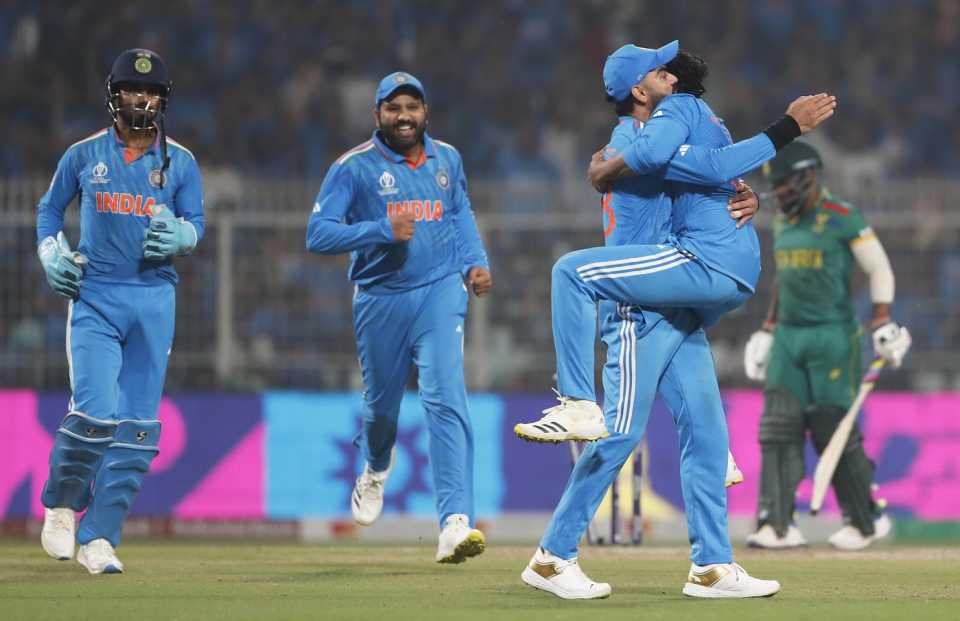 His impact extended to his bowling performance. He secured a maiden World Cup five-wicket haul with remarkable figures of 5 for 33 in nine overs. His mastery with the ball was instrumental in dismantling South Africa's batting lineup, resulting in their lowest ODI total.
His incredible achievement also earned him a place in history, becoming only the second Indian spinner to claim a five-wicket haul in the ODI World Cup, following Yuvraj Singh's performance in the 2011 edition.
Rohit's Acclaim
Captain Rohit Sharma showered praise upon Jadeja, acknowledging his invaluable contributions. He emphasized Jadeja's multi-faceted role.
"Jadeja has been very good for us. Playing in every format over the years. Today was a classical case as to what Jadeja is for us. He came out at the death and scored vital runs and then picked up wickets," said Rohit Sharma.
Jadeja's versatility and match-winning performances have played a pivotal role in India's commanding World Cup campaign. His all-round excellence has made him an indispensable asset for the Indian team on their quest for World Cup glory.
As India continues its impressive journey in the ICC ODI World Cup, Ravindra Jadeja's remarkable abilities and unwavering commitment continue to shine, making him a crucial component of the team's success.
">